You have been real busy with your schedule (or plain laziness) and missed your daily routine regime for quite a while now. With parties making rounds, you realized that in a week, you have to attend your best friend's wedding, which you cannot afford to miss. You are dying to flaunt your favourite outfit that flatters your figure but are worried about your flabby stomach bulging out. Your beer belly is giving you jitters and you decided to stay at home with a hot cup of coffee in one hand and TV remote in other. No worries, you have an option.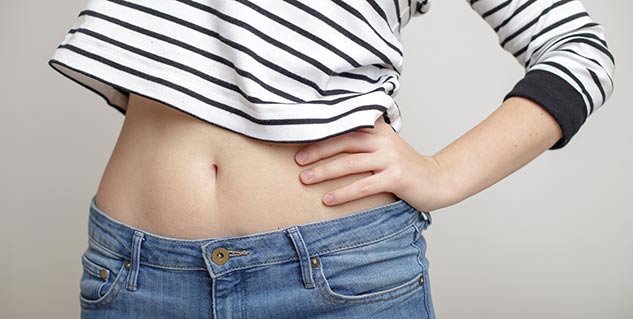 You can lose belly fat with just 5 simple steps within 7 days! So, be ready to grab some attention and compliments, after all looking hot is not that tough.
You don't need to alter your daily habits to don a flat tummy before the party begins! Just follow these 5 steps to get a flat tummy in 7 days.
Step 1:
Start with doing circuit training, it will help you to build muscle and burn fat, both at the same time. To get a flat tummy in 7 days, you need to do this at least thrice a week. Indulge yourself in full body exercises such as lunges, push-ups, and pull-ups, for one set of 15 repetitions. If you want to burn around 500 to 600 calories per workout, then you will have to follow every exercise with one minute of jumping rope or jogging.
Step 2:
To lose belly fat in 7 days, you need to focus on working on your abdominal muscles minimum thrice a week. You must try crunches and leg raise for three sets of 20 repetitions. Along with these, do planks by holding your body in a push-up position on your elbows for at least 30 to 60 seconds for four sets.
Step 3:
Minimize water retention in your body by reducing your sodium intake. Eating too much salt can also result in elevated blood pressure, dehydration, weight gain and more. Avoid taking salt as much as you can. Try adding flavors to your food with other herbs and spices.
Step 4:
Let's focus on the diet now. Yes, you need to keep an extra eye on what you eat.  Take special care of the kind of food you eat during the 7 days flat tummy process as this is very important to bring change in the way you look. Consume natural foods like green vegetables, fruits, chicken, whole grain bread and pasta, fish and low fat dairy. Keep yourself away from processed foods that are full of sugar or salt.
Step 5:
Avoid taking stress and anxiety, if you really want to get a flat tummy in 7 days. These are biggest foes of flat belly as these promote over-production of a certain hormone called cortisol, which encourages weight gain, especially in the belly area. So, try to maintain a calm and positive attitude!
Images: Shutterstock